The Aetna Mobile application ("app") makes it even easier for Aetna members to get their personal information or complete important tasks on the go.  This mobile app is compatible
with the iPhone®, iPod touch® and iPadTM.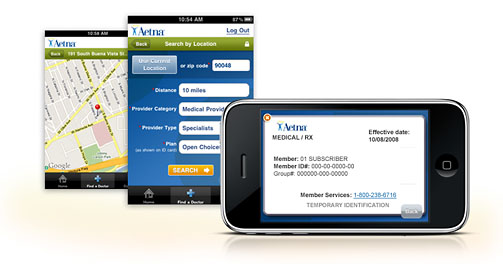 Included in this app are advanced features, such as:
Find a Doctor, Dentist, or Facility
Search for a doctor or facility based on your current location and get turn-by-turn directions to the office with the iPhone's built-in Global Positioning System (GPS)
Call the doctor's office with the tap of a finger
View a map
Transfer the doctor's contact information right to your address book
View your Member ID Card
With just a tilt of your phone, the accelerometer feature gives front and back views of your card whenever you need them. It's just like having them in your hand.
You can also access these popular mobile web features from the app:
Look up Claims
Click on Claims View to quickly see the status of your five most recent claims. With one more click, you can get a detailed view of each claim, or search specifically for additional claims by member name or date.
View your Personal Health Record
If you have a PHR, you know how helpful it is for storing and organizing all of the important information you need to manage your health. Now you can easily view sections of your PHR — like Alerts & Reminders, Emergency Information, Medications, and Tests & Procedures – when you're on the go.
Check Drug Prices
Depending on your plan, use this feature to get an estimate of your drug cost before you fill a prescription. We give you both your Aetna Rx Home Delivery and local retail pharmacy costs based on your coverage and benefits. You'll even find money-saving alternatives listed where available.
Get Started
The Aetna Mobile application is free.*
There are two ways to download the Aetna Mobile application to your iPhone or iPod Touch, or even your iPad (Requires iOS 3.0 or later).
From your computer
If you have iTunes® 7.7 or higher on your computer, click the App Store logo below and download the Aetna Mobile application directly from iTunes to your computer.  Then synchronize your mobile device as your normally would with this computer.
From your iPhone, iPod Touch or iPad
Tap the App Store logo on your home screen. Type "Aetna Mobile" in the search box. When the Aetna Mobile app icon appears, tap it for the detailed information page. Then continue through the process to download directly to your mobile device.

To use the Aetna Mobile application, you must be registered for the secure member site and have a User Name and Password.  If you are an Aetna member but have not registered for access to the secure member website, type "Aetna.com" into your mobile Internet browser or click here and follow the directions to Register Now.
Please note: If you log in to the mobile app and can only see the Find a Doctor feature, it may be time to confirm or update your profile information on the secure member website. Please click here to complete this process.  (If you are not prompted to confirm or update your profile, please contact Member Services for further assistance.) Once your profile is validated, log in to the app again. You will then be able to access your personal information, such as claims and member ID cards.
You must always sign in with your User Name and Password to access the features in this app. Without that information, no one can reach your personal data. It is safe.
Read our Mobile FAQs.
* Standard text messaging and other rates from your wireless carrier still apply.